Drunk driving penalties are  not tough enough, writes Cathy Arscott of Argus, Ontario. I (yer man Paddy Nolan) am an Irish booze artist who never learned to drive but I am an experienced lawyer and I agree. I say that there'd be no drunk driving if the Parliament of Canada gave every drunk driver a fair quick trial and thew every convicted one in jail for two years minimum. And if Canadian judges were doing their job – that'd be the case. Judges administer the law like waitresses pour tea in Victoria's Empress Hotel. If the judges want to be nice guys and nice girls – they should trade in their +/- $300,000 per year jobs for minimum wages at the Empress. But – of course – politicians should be working at the Empress too – as smiley faced bus boys and bus girls. Convicted drunk drivers have killed or tried tried to kill human beings. 
Read More of Paddy's rant against drunk drivers, lilly-livered judges and power-hungry kops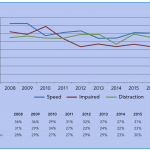 Some years ago, drunk drivers were murdering a huge number of B.C. citizens. Political Ponticus Pilots protected judicial Ponticus Pilots by passing a law that took away a driver's right to trial – to save expense, they said. They turned it all over to the police – they created a police state by appointing the kops judge and jury and liquidating trials. Kops will be kops and they loved it. But kops will be kops and have quickly abused their powers. And finally the lawyer for one woman is taking the Police State Law to court and eventually she'll succeed and the politicians and judges will be back where they started and maybe society will realize that the judges must crack down on lawyers and judges – by, for example, not allowing lawyers to run the wheels off cases. When Chief Justice Campbell McLaurin of the Supreme Court of Alberta encountered stalling he admonished the lawyer doing it with "And B.S. to you!!!!" – he would often throw the lawyer in jail for contempt of court and double the sentence of his client. My colleagues and I were scared of the Chief but he never sat on a case that lasted more than a day. 
B.C. politicians brought in the Police State provisions in 2008 and they started to operate from 2012. Perhaps they reduced drunk driving murders. But not nearly enough.